Get more information on MDEC's new reskilling/upskilling incentive program, Digital Up at mdec.my/digitalup.
We are delighted to announce that Custommedia has been appointed as the training provider for the Digital Up program by the Malaysia Digital Economy Corporation (MDEC). This partnership marks an exciting milestone in our commitment to equipping individuals with the necessary skills to thrive in the digital landscape. Whether you're looking to enhance your expertise or embark on a new career path, Custommedia Academy is here to support you.
There are two distinct tracks under the Digital Up program, each designed to cater to different learning preferences and financial considerations. We understand that everyone's circumstances differ, and our aim is to provide flexible options that meet your specific needs.
Track 1
In this track, MDEC will generously subsidize RM3,000 per participant. This subsidy makes professional training more accessible and affordable, allowing individuals to upskill without bearing the full financial burden. The featured course for Track 1 is the ISTQB® Certified Tester Security Tester (CT-SEC). This comprehensive program will equip you with the knowledge and practical skills necessary to excel in the field of security testing.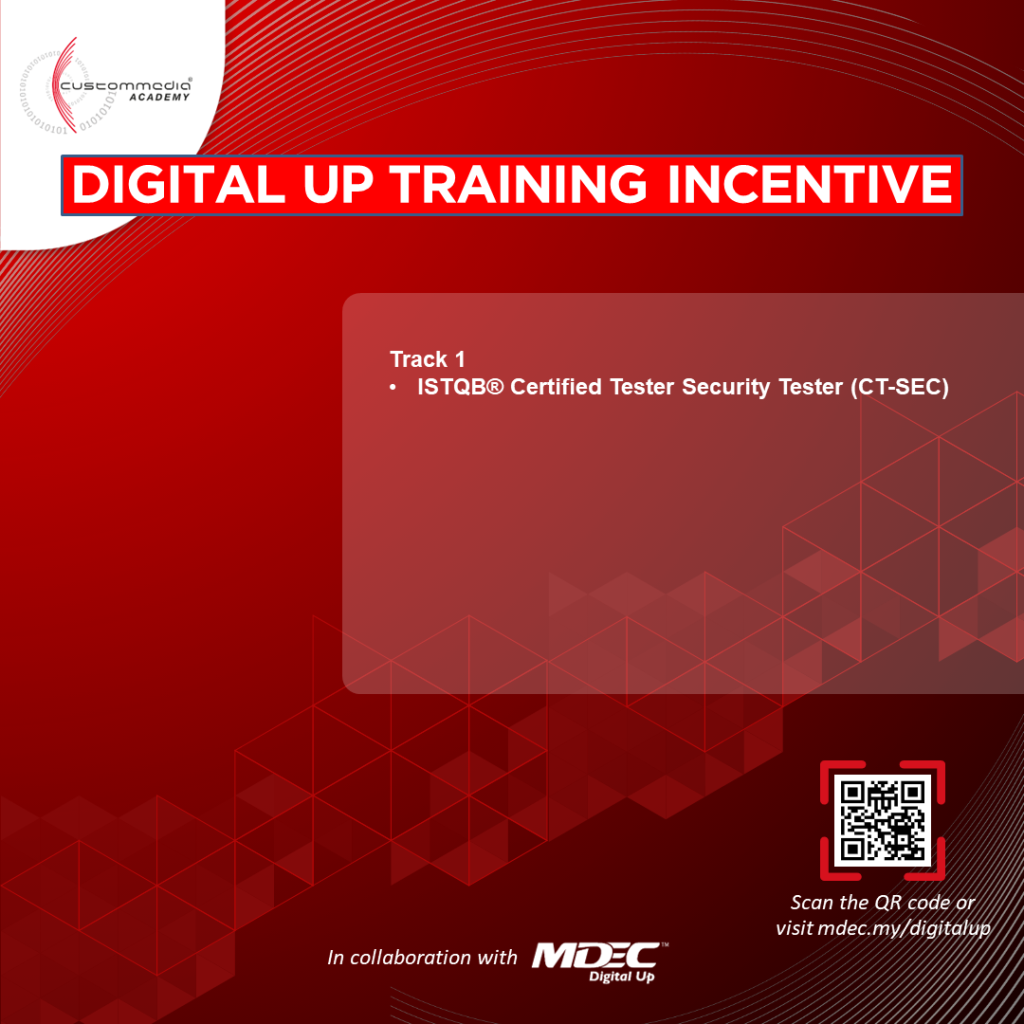 Track 2
Certified Tester Advanced Level Test Analyst (CTAL-TA): This course is tailored for individuals seeking to deepen their understanding of advanced testing techniques and methodologies. By acquiring the CTAL-TA certification, you will be recognized as an expert test analyst capable of handling complex testing scenarios.
Accelerated Function Point Estimation Techniques (AFPET): Learn the art of estimating functional sizes, a vital skill for software development projects. This course provides you with accelerated techniques to estimate function points accurately, enabling you to contribute effectively to project planning and resource allocation.
Software Configuration Management – Foundation Level (SCM-FL): This course focuses on the fundamental concepts of software configuration management. Gain essential knowledge and skills to effectively manage changes to software systems, ensuring a smooth and controlled development process.
Software Testing Boot Camp for General Practitioner 1 (Vol 1 of 2) – Planning & Designing of Tests (STBC-GP1 Vol 1): Perfect for beginners, this boot camp provides a comprehensive introduction to the planning and design aspects of software testing. Develop a solid foundation and learn best practices to design effective test cases.
Software Testing Boot Camp for General Practitioner 1 (Vol 2 of 2) – Implementing, Executing & Reporting of Tests (STBC-GP1 Vol 2): Building upon the concepts covered in Vol 1, this boot camp delves into the implementation, execution, and reporting phases of software testing. Gain practical skills to conduct thorough tests and communicate results effectively.
Grab Your Chance Before 30 September 2023!
As the appointed training provider for MDEC's Digital Up program, Custommedia is proud to offer a diverse range of courses to empower individuals in their digital journey. With two tracks to choose from, you can select the option that suits your learning preferences and financial circumstances. Don't miss out on this exceptional opportunity that will end on 30 September 2023 to enhance your skills and embrace the digital future. Enrol now